Jobs
GILA RIVER HUMAN RESOURCES DEPARTMENT
The Human Resources Department serves the Community to attract, select, retain and develop a diverse employee workforce while delivering exceptional customer services in a safe and productive environment.
The department strives to create hiring and employment opportunities for the Community's membership as well as provide training and opportunities for expansion for the approximately 2,300 current employees. The department proposes various policies and practices for Community employees and seeks to maintain staffing levels to optimal performance levels. The department also seeks to continuously build and maintain a compensation model as deemed necessary by Community leadership.
Phone: (520)562-9800
Fax: (520)562-9809
Email Address: HRHiringTeam@gric.nsn.us
Physical Location
525 West Gu u Ki
Sacaton, AZ 85147
To view a listing of current job openings, please click the link below to access GRIC's Applicant Tracking System.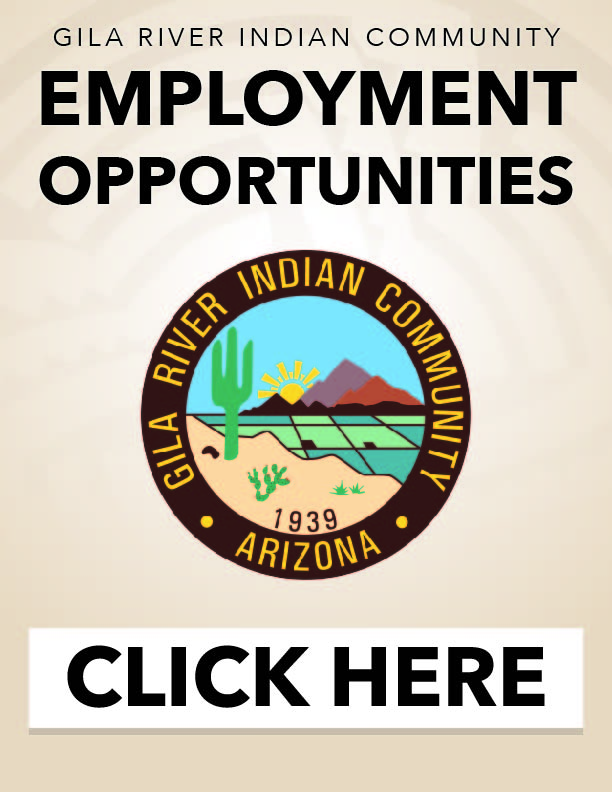 Please submit completed copy of application and attachments to the Gila River Human Resources Department or send to HRHiringTeam@gric.nsn.us
CONTACT INFORMATION
For assistance in completing an online application you can contact anyone of our Talent Acquisition Team Members. You can also contact us via email at HRHiringTeam@gric.nsn.us

Amber Mix, Human Resources Hiring Manager
(520) 562-9832

Tiffany Soto, HR Assistant
(520) 562-9807

LaShaunda Williams, HR Assistant
(520) 562-9816
Mary Valenzuela, HR Assistant
(520) 562-9811

Mary Jane Balser, HR Assistant
(520) 562-9812
Vanessa Jackson, HR Assistant
(520)562-9802

Main Line
(520) 562-9800
About Our Applicant Tracking System
It is important that we share with you this information in relation to our plan to phase out the paper application submittal with our office. This means you (the applicant) will need to create a user profile through our online Applicant Tracking System (ATS). In order to ensure your application is submitted we encourage you to apply for a position online, going forward. You will need a valid email address to start this submittal process.
The Applicant Tracking System (ATS), also called a candidate management system, is a software application designed to help our organization recruit employees more efficiently. Therefore we encourage you take the time to fill out the online application. The benefits will aide you in applying for a position and create user profile. In the future when you see a position that is posted and are interested in that position you can immediately access your profile and submit your application for that particular position.
As an example: You do not have to come into Human Resources to submit your application you can apply from the comfort of your own home, your District Service Center, or any location that has internet connection. You can go directly by clicking this link, JOBS.
Because this system is new for the organization and the Community, the Human Resources Team will be available to assist you in the application submittal process. We want you be successful in your career and most definitely important that you make every effort to apply online.
Application Tips
APPLICATION TIPS/ Important Information
Please make sure you are completing the correct employment application. Failure to submit the correct application will disqualify you from the interview process. You must complete the application linked to the actual job announcement for which you are applying.
Some positions will require that candidates submit a valid 39 month MVR (Motor Vehicle Report-39 month driving record). This can be obtain through servicearizona.com or you can contact Human Resources Hiring Team for assistance in obtaining an MVR.
When completing your application feel free to include all work experience to include volunteer work and/or self-employment.
(DOE) = Depending on Experience
Meaning that salary will be calculated based on your verified relevant work experience.
Please include any attachments that you feel are relevant to the position such as degrees, transcripts, certification and professional licenses. If you are having difficulties uploading your documents, please reach out to a Human Resources Assistant for assistance.
For Community Member/ Native American please include a valid tribal ID or Certificate of Indian Blood.
For Veteran Preference please include a copy of your DD214.
Background Check Frequently Asked Questions
BACKGROUND CHECK FREQUENTLY ASKED QUESTIONS
Question 1: Can I work for the GRIC if I have a criminal record? What if I have a felony?
Answer: A criminal record or felony conviction does not automatically disqualify you from employment. However, certain positions, including those with contact or control over children, the elderly or disabled have specific requirements (statutory bars) which will prohibit employment.
Question 2: Do I have to disclose my criminal record when I apply for a position with GRIC?
Answer: Yes, the GRIC Employment Application specifically asks whether you have ever been arrested for, charged with, or convicted of a crime other than a minor traffic offense. Failure to disclose this information may disqualify you from consideration.
Question 3: Do I have to give permission for a background check?
Answer: Yes, Human Resources will obtain your consent for a background check by having you sign a waiver and release form.
Question 4: What kind of background check is conducted? How far back?
Answer: The background check may include local/state/federal criminal history checks, Tribal court records, employment and education verifications, reference checks, and additional items depending on the position and department. Background checks may cover the last 10 years or, for positions with contact or control over children, the elderly or disabled, the checks will cover your entire history.
Question 5: Who can see the results of my background check?
Answer: Criminal history and other protected information can only be disclosed on a need-to-know basis within Human Resources. Background check information is secured and restricted.
Question 6: What if the information on my background check is wrong?
Answer: Disputes regarding background check information may be submitted to the agency which provided the information. Human Resources staff will provide contact information if needed.
Question 7: What is Human Resources looking for on my background check?
Answer: For positions requiring background checks, there are several issues which may be considered. Positions with contact or control over children, the elderly or disabled are the most critical and are covered by the Indian Child Protection & Family Violence Prevention Act as noted in the Employee Policies & Procedures Reference Guide. There are also specific requirements for departments such as Judicial, Gila River Police Department, Tribal Education, etc.